Here's what I found...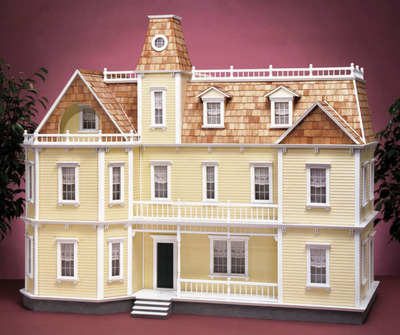 My first order of business was to completely remove the 3rd floor, which was falling apart and not glued down properly. I also discovered the 2nd and 3rd floors were switched. That meant the porch ceiling was all the way up on the 3rd floor making it impossible to create the porch correctly. Not to mention I just had to get rid of that awful blue color! I had a lot of priming to do!
Now, on to priming the interior walls and ceilings of the inside of the dollhouse. The ceilings need to be painted white and and walls prepped for wallpaper.
This is the start of my formal dining room. It's going to feature crown molding and have a chair rail. It's going to be gorgeous. I'm also busy painting my baseboards and crown. This room will be a real standout.
I have been hard at work! Today is Sept 17th and I have finally prepainted and intstalled the 3rd floor. The interior looks like a hot mess but it's really coming together. I'm going to work on finishing the wallpaper and then on to shingling!! This is a huge dollhouse with so much roof! I'll be shingling for days and days once I begin. But it'll be well worth it! Once I finish the bay windows on the 3rd floor I'll be ready to start...
The dormer windows have been installed and shingling has begun! The entire right side of the dollhouse has been shingled. It looks great! I can't wait to finish the rest! This is such a beautiful dollhouse. I wonder who will get to call it their own...it'll be done in time for purchase for Christmas!