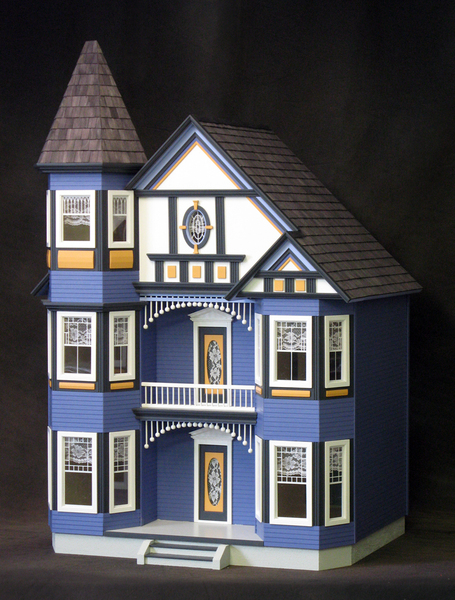 The Painted Lady Dollhouse by Real Good Toys is reminiscent of the famous Painted Ladies of San Francisco. It has 7 huge rooms. It's absolutely stunning and beautiful!! Dimensions are: 30"W x 22"D x 42 3/4"H
Little Darlings will assemble and finish this dollhouse for you with the colors of your choice. We will also finish the interior or we can leave it bare inside for you to finish yourself! Prices are based on your choice of finishing and include shipping to the Continental US only.**
**Shipping includes pickup, freight packaging and shipping up to $600.00. Any additional costs related to your dollhouse shipping is the buyer's responsibility.
We have 3 new package options for you to choose from:
Plan A
$1,425.00
This plan includes assembly and complete exterior finishing. (You choose your exterior paint colors and shingle stain color) The interior of the dollhouse is left bare. Shipping Included.
Plan B
$1,625.00
This plan includes complete exterior finishing (You choose your paint colors and shingle colors) as mentioned in plan A with the addition of interior finishing. The interior finishing includes wallpaper and paint (ceilings, stairs, some rooms) and finished floors. This does NOT include baseboards, crown molding, staircase with banisters or railings, or interior doors. Shipping included.
Plan C
$1,825.00
The works! Our specialty! Complete finishing inside and out including:
*Painted exterior
*Stained wood shingles
*Working interior and exterior doors
*Wallpaper/Painted Rooms
*Crown molding
*Baseboard
*Finished wood floors
*Staircase with railings
Shipping included!
The interior photo above does not picture the dollhouse in our Package C form. As you can see, the dollhouse kit does not include any extras such as interior window trim, banisters, baseboards, crown molding, interior doors, wallpaper, paint or supplies. Keep that in mind as you look at our prices! These supplies are costly as well as the time and effort to install them! However, if you would like to do some work yourself our package A and B options allow you to decorate the inside yourself. There's a lot to think about. Feel free to call me with any questions. This is an amazing dollhouse and truly worthy of the "Painted Lady" name!